The Morton Broffman collection appearing at the High Museum of Art in Atlanta has generated a great deal of interest and commentary. We provide a number of articles and broadcast information as further background on Morton Broffman's legacy in photojournalism.

High's civil rights show brings obscure photographer into the light

By JIM AUCHMUTEY
The Atlanta Journal-Constitution
Published on: 06/01/2008
Patti Broffman was recovering from dental work and didn't feel like going anywhere. But her son insisted; Neal had something he wanted to show her.
So one evening in May, he dropped by her Brookwood condo and drove her a few blocks south to the High Museum of Art. On the front of the building was a 20-foot-tall banner depicting the Rev. Martin Luther King Jr.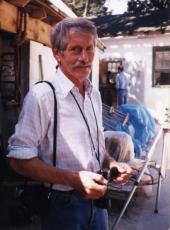 Neal Broffman
Morton Broffman gave up teaching for photography in the mid-1960s. He was drawn to civil rights and anti-war protests.

Morton Broffman
Morton Broffman photographed the Rev. Martin Luther King Jr. and Coretta Scott King leading the 1965 voting rights march into Montgomery. The High Museum liked it so much that it blew up the image and put it on a banner to promote the exhibition.

Charles Moore
Among the civil rights photographers featured in the show is Charles Moore, who shot this memorable picture of a woman getting fire-hosed in Birmingham in 1963.

Patti Broffman recognized the image immediately. It was a photograph her late husband had taken at the end of the 1965 voting rights march from Selma to Montgomery. She had urged him to go to Alabama, even if he had to phone in sick to work, and she had taken him to the train station in Washington.
The last time she saw the black-and-white picture was in a small print. Now, beholding the banner, she thought to herself, "Now that's an enlargement."
The work of Morton Broffman is one of the happy discoveries in "Road to Freedom," an exhibition of civil rights photography opening June 7 at the High. The museum believes it's the largest and most significant show of its kind in at least 25 years. It will move on to the Smithsonian Institution in November.
The exhibition features some 200 images from 45 photographers: amateurs, photojournalists, art photographers, volunteers working for civil rights groups — shooters of all stripes drawn to bear witness to the revolution that transformed America in the middle of the 20th century.
Some of the pictures, including the seven Broffmans on view, have never been displayed publicly.
"I think his work puts him on the same level with some of the great names we have in the exhibition," said Julian Cox, who organized the show as the museum's curator of photography.
How did a relatively unknown photographer who has been dead for more than a decade come to have his work emblazoned across a major museum?
It has something to do with pasta.
Time for a change
Neal Broffman's basement in the Collier Hills neighborhood of Atlanta is a time capsule of his father's career.
Rusty file cabinets hold thousands of his negatives and contact sheets. Boxes of his prints with handwritten labels such as "Alabama 1965" are stacked high. His clunky old darkroom equipment is set up as if he just stepped out for lunch.
"My father taught me how to develop pictures," said Broffman, 44, an independent video producer. "I saw Martin Luther King's face come up so many times, I thought he must be a close family friend."
Broffman remembers his dad as a funny, outgoing man who loved Bach, jazz, the Jefferson Airplane and the Democratic Party. He had a wiry physique, a mop of hair and a bushy mustache that advertised his sympathies with the counterculture and various protest movements.
Morton Broffman was raised in the Bronx, the son of Russian Jewish immigrants. He didn't pick up a camera until he married a young woman from Brooklyn who had a Kodak Brownie and liked to take pictures.
"He got photography from me," Patti Broffman said.
After his stint in the Army in the 1950s, the couple settled in Arlington, Va., and became schoolteachers. Broffman took pictures on the side, specializing in children's portraits. For a time, he taught at a private school in Georgetown where many members of Congress sent their kids. He came to know politicians well, especially two senators from Minnesota. He documented Hubert Humphrey's 1960 campaign for the Democratic presidential nomination and did the same eight years later with Eugene McCarthy.
Broffman continued to teach until the mid-1960s, when his wife decided on the spur of the moment that it was time for a change.
"Morty was in bed with a cold when the school called to renew his contract," she remembered. "I told them he wasn't coming back. Then I had to go tell him he was out of a job. I said, 'You're through teaching. You're going to be a photographer.'"
Broffman's principal client was the Washington National Cathedral, where he served as the part-time staff photographer for more than 25 years. He loved to hang out with the stone carvers who were finishing the landmark's famous statuary. They liked him so much that they carved a tribute; one of the cathedral's many gargoyles has a likeness of Broffman and his camera hidden inside its open mouth.
On March 31, 1968, Broffman was at the cathedral photographing King as he delivered his last sermon in a flowing black robe. A week later, he traveled to Atlanta with his Leica for King's funeral. Then it was back to Washington for the slain leader's final crusade, the Poor People's Campaign.
"After that, Morty slid into anti-war rallies and Native American protests and all the other things that were happening in Washington," Patti Broffman said.
Her husband kept shooting until 1992, when he was diagnosed with amyotrophic lateral sclerosis — Lou Gehrig's disease. Within weeks, his shaking hands were unable to hold a camera steady.
A special connection
Neal Broffman was living in London and working as a cameraman for CNN when his father died that December at age 64. After he and his wife settled in Atlanta a few years later, they found themselves the custodians of Morton Broffman's archives and equipment. They didn't know what to do with them.
"Everything was just sitting in the basement," said Broffman's wife, Elisa Gambino, a former CNN producer. "It was a big weight on Neal."
A couple of years ago, Gambino, who now owns a pasta shop called Via Elisa, was cooking at a civic association event in Ansley Park. Knowing nothing of the planned civil rights exhibition, she mentioned Broffman's photos to a friend of her sister's who happened to be a board member at the High Museum.
Julian Cox soon contacted her husband. The curator had never heard of Morton Broffman, but he wanted to examine his work. He sorted through the prints in the basement and liked what he saw.
"There's a special emotional quality in it," Cox said. "He seemed to connect with people in a crowd, especially children. The Selma-to-Montgomery march was a bit of a rugby scrum with all those photographers and cameramen, but he always seemed to find the right place."
Cox's favorite shot shows a man lying down in exhaustion at the end of the Selma march. Another man sits beside him holding a furled U.S. flag. Trash litters the ground around them.
"If you look closely, you can see Kodak film packets," he pointed out.
Cox visited the Broffmans several times and made stacks of photos he was interested in having the museum acquire. He settled on 33 vintage prints made near the time the pictures were taken.
The family decided to donate them to the High, asking only for memberships and a dozen copies of the exhibition catalog in return.
"It wasn't doing any good to keep those pictures in boxes," Broffman said. "We wanted people to see them."
The museum also hired the photographer's son to make a 23-minute companion film for the exhibition. He and Cox traveled to several sites that figured in the movement and interviewed activists and photographers who were there when history happened.
Sadly, they couldn't interview Morton Broffman.
"This is hard for me," said his widow, who felt a rush of bittersweet emotions as she looked at the banner with his picture on the wall of the museum. "I'm happy, but I keep thinking that it's too bad he isn't here to see it. He was such a good photographer. I'm so proud of him."
OTHER EYES ON THE MOVEMENT
Forty-five photographers are represented in "Road to Freedom." They include:
• Bob Adelman. Working for magazines, he shot Birmingham, Selma and the March on Washington, where he captured one of the iconic photos of the civil rights era: the Rev. Martin Luther King Jr. turning away from the throng after his "I Have a Dream" speech.
• Bruce Davidson. He traveled south on a Guggenheim fellowship and took emotion-packed images in Selma, Birmingham and Atlanta. He has 16 pictures in the exhibition, more than any photographer. A separate show of his work is on view at Jackson Fine Art in Buckhead.
• Doris Derby. Now an administrator at Georgia State University, she documented the role of women in the movement as she photographed early education and anti-poverty programs in Mississippi.
• Danny Lyon. As a college student, he came south to take photos for the Student Nonviolent Coordinating Committee. He took a remarkable series of pictures at the Leesburg Stockade in southwest Georgia, where a group of black teenage girls who had been arrested for protesting were held for weeks under primitive conditions.
• Charles Moore. He started covering the movement for the Montgomery Advertiser. His powerful images of fire hoses and police dogs attacking protesters in Birmingham rated an 11-page spread in Life magazine that some credited with helping pass the Civil Rights Act of 1964.